Good Drinks Fine Food and Great People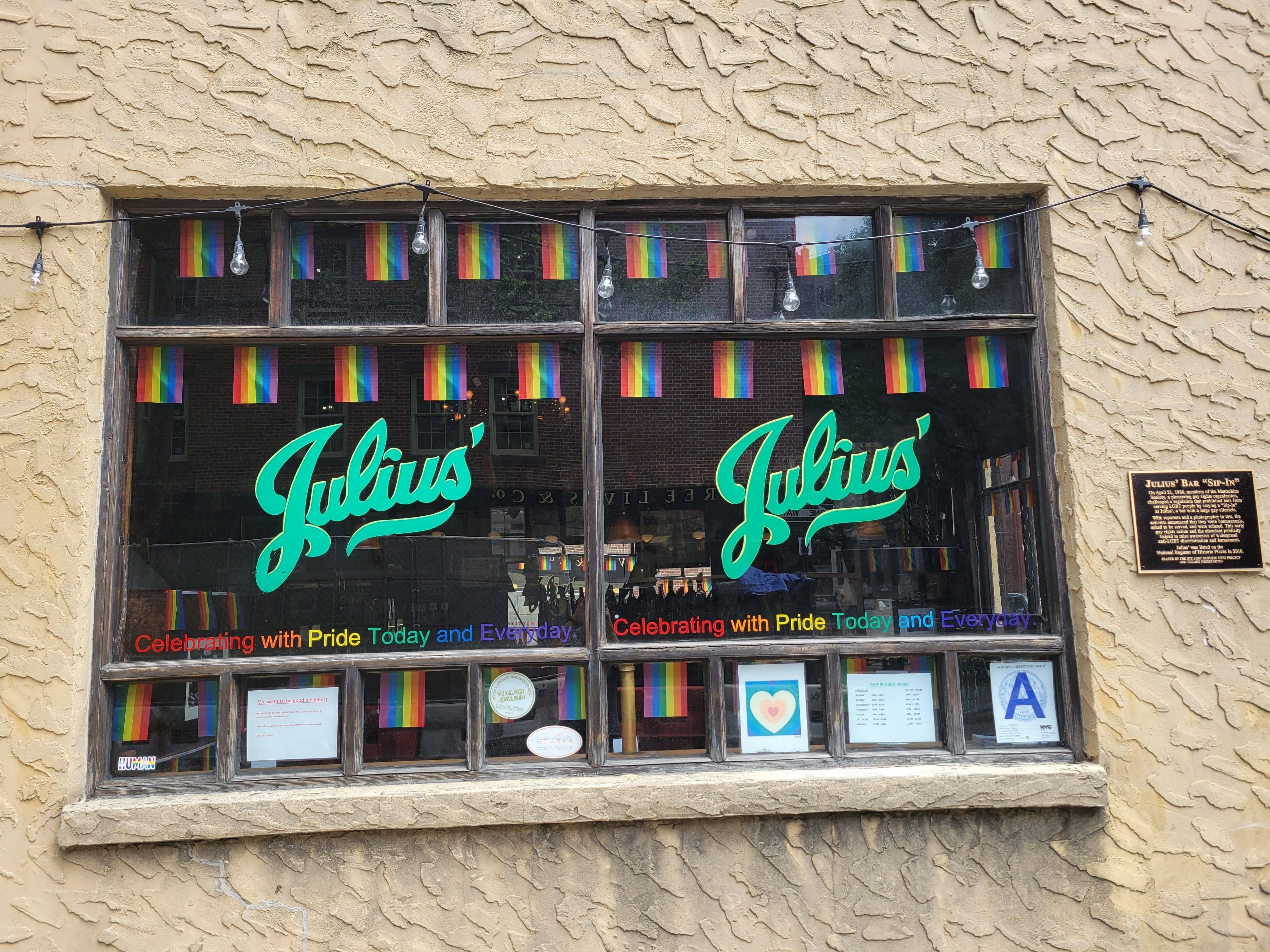 New York's oldest Gay bar and Greenwich Village's oldest bar.
Julius' Parties and Events
Mattachine Party July 21st. @9 PM.
Join us at Julius' Hosting the Mattachine Party. Kick off at 9pm Its going to be a hot one. See you there
After Dark Party Saturday Aug. 6, @ 8pm* happy hour until 9pm
Saturday Night Julius' Hosting the After Dark Party Continues 8-9pm Happy Hour.
FIVE YEARS!!! How did it get so late so soon!? What a wild and wonderful trip its been, and we just keep on keepin' on! COME CELEBRATE at New York's Oldest Gay bar, Julius' in New York's West Village! Bring or meet friends to mingle, dance, and groove to the best and the rest from my collection of 1960's 70's and 80's rock, funk, disco, and new wave hits featuring genuine VINYL!
Get your dance ON, and your mouth AROUND one of Julius' "Best in NYC burgers" (or some their other amazingly delicious fare including their new salad with grilled chicken for you beach-conscious folk.) 🍔🌭🍟🍆🍑
Happy hour is ON from 8-9pm where I'll spin the wild, weird and wonderful songs of the mid-century! Then we travel through the decades, landing in the glorious 1980's.
We have our famous video mix by Jeff Chiola celebrating gems After Dark era!! ANALOG VIDEO MAGIK-to the MAX! 📺
The drinks will be flowin' ALL NIGHT LONG! So leave the BS and come DE-stress, dance it out, and meet new, brilliant, smart and sexy friends, and RECONNECT with those you haven't seen in a MINUTE!
Cover: Nope!
Look: GLAM! 💄💋💅🏻👯‍♂️💃🏼
xoxo - Kyle
This Tuesday July 26th has been canceled

Enjoy Tuesgay
Julius' Bar is introducing a new party venue on Tuesdays for Tuesgay nights kick off 6pm. Enjoy our Happy Hour 4 to 7pm
The drinking age in New York is 21 .
Cash Only Bar
Only the following ID's for entry are permitted. -
Valid means
;
NOT EXPIRED, NO COPIES.
-
Valid:
New York State driver's license or a valid driver's license from other states or Canada. -
Valid:
identification issued by New York Department of Motor Vehicies (Non-driver ID card). -
Valid:
United States Military Idenification -
Valid:
Passport or visa from the United State Government or other country
Julius' Burgers, Try One Today
Real-talk: the best-kept secret at this joint is our juicy burgers.
Price:
at $30 Plus Shipping Fee
Material:
Cotton
Sizes:
Small, Medium, Large
Color:
Black
Get yours today!
If you have questions about the events and products at our gay bar, please feel free to get in touch with us via
email
.